PVT tool
From wiki.pengtools.com
Brief
PVT tool provides the basic input for any Petroleum Engineering calculation.
PVT tool calculates the main properties of oil, gas and water using a set of black-oil correlations.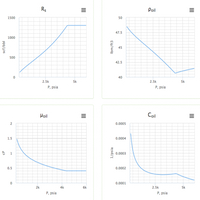 Main features
Plots of PVT properties vs pressure at reservoir temperature.
Output section contains values under reservoir conditions.
Results section contains values under standard conditions and at pressures between surface atmospheric and reservoir at reservoir temperature
Interface features
"Default values" button resets input values to the default values.
Switch between Metric and Field units.
Save/load models to the files and to the user's cloud.
Export pdf report containing input parameters, calculated values and plots of the PVT properties.
Share models to the public cloud or by using model's link.
Continue your work from where you stopped: last saved model will be automatically opened.
Download the chart as an image or data and print (upper-right corner chart's button).
Export results table to Excel or other application.
Correlations
| Property | Correlation | Reference |
| --- | --- | --- |
| Bubble point | Valco - McCain | Valkó, P.P. and McCain, W.D. Jr . 2003. Reservoir oil bubblepoint pressures revisited; solution gas–oil ratios and surface gas specific gravities. J. Pet. Sci. Eng. 37 (3–4): 153-169. |
| Gas-oil ratio | Velarde | Velarde, J., Blasingame, T.A., and McCain Jr., W.D. 1997. Correlation of Black Oil Properties At Pressures Below Bubble Point Pressure - A New Approach. Presented at the Annual Technical Meeting of CIM, Calgary, Alberta, 8–11 June. PETSOC-97-93. |
| Oil density | McCain | W.D. McCain, Jr, N.C. Hill: Correlations for Liquid Densities and Evolved Gas Specific Gravities for Black Oils during Pressure Depletion, SPE, 30773, 1995. |
| Oil FVF | McCain | W.D. McCain, Jr: The Properties of Petroleum Fluids, Second edition, Tulsa, Oklahoma, 1990. |
| Oil viscosity | Beggs and Robinson | Vazquez, M. and Beggs, H.D. 1980. Correlations for Fluid Physical Property Prediction. J Pet Technol 32 (6): 968-970. SPE-6719-PA. |
| Oil compressibility | Farshad | Frashad, F., LeBlanc, J.L., Garber, J.D. et al. 1996. Empirical PVT Correlations For Colombian Crude Oils. SPE-36105-MS. http://petrowiki.org/Calculating_PVT_properties |
| Z factor | Dranchuk | Dranchuk, P.M. and Abou-Kassem, H. 1975. Calculation of Z Factors For Natural Gases Using Equations of State. J Can Pet Technol 14 (3): 34. PETSOC-75-03-03. |
| Gas density | Standard equation | http://petrowiki.org/Gas_formation_volume_factor_and_density |
| Gas FVF | Standard equation | http://petrowiki.org/Gas_formation_volume_factor_and_density |
| Gas viscosity | Lee | Lee, A.L., Gonzalez, M.H., and Eakin, B.E. 1966. The Viscosity of Natural Gases. J Pet Technol 18 (8): 997–1000. SPE-1340-PA. |
| Gas compressibility | Standard equation | http://petrowiki.org/Isothermal_compressibility_of_gases |
| Water density | McCain | McCain Jr., W.D. 1991. Reservoir-Fluid Property Correlations-State of the Art. SPE Res Eng 6 (2): 266-272. SPE-18571-PA. |