Electrical Submersible Pump
From wiki.pengtools.com
Electrical Submersible Pump
Electrical Submersible Pump (ESP) is an artificial lift method to lift fluids from the wells.
Electrical Submersible Pumps are used to pump off the oil wells and produce water from the water source wells.
A typical submersible pumping unit consists of an electric motor, a seal section, an intake section, a multistage centrifugal pump, an electrical cable, a surface-installed switchboard, a junction box, and transformers [1].
750+ ESP models are grouped into the ESP catalog.
Pump Design - ESP pump design software available online at www.pengtools.com.
ESP Performance Curves
The performance curves of ESP represent the relationship between flow rate capacity and:
Head capacity
Pump efficiency
Brake Horsepower
ESP Performance Curves also show Best Efficiency Point (BEP) and ESP operating range.
ESP Performance Curves are used for ESP design and sizing.
These curves are for a fixed power cycle i.e. 50Hz, and can be changed with variable frequency controllers.

REDA GN5200 ESP Performance Curves for 150 stages - 60 Hz
ESP Tornado chart
ESP Tornado chart is the variable-speed ESP performance chart showing the ESP performance curves at different frequencies.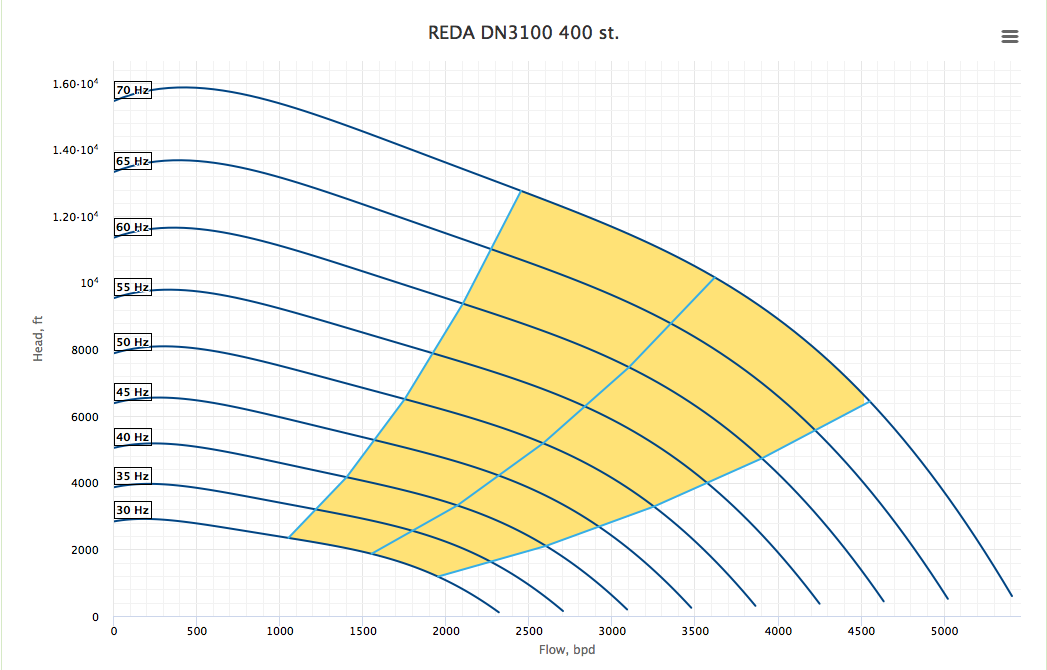 ESP Tornado chart for the REDA DN3100 pump with 400 stages
ESP System
ESP Motor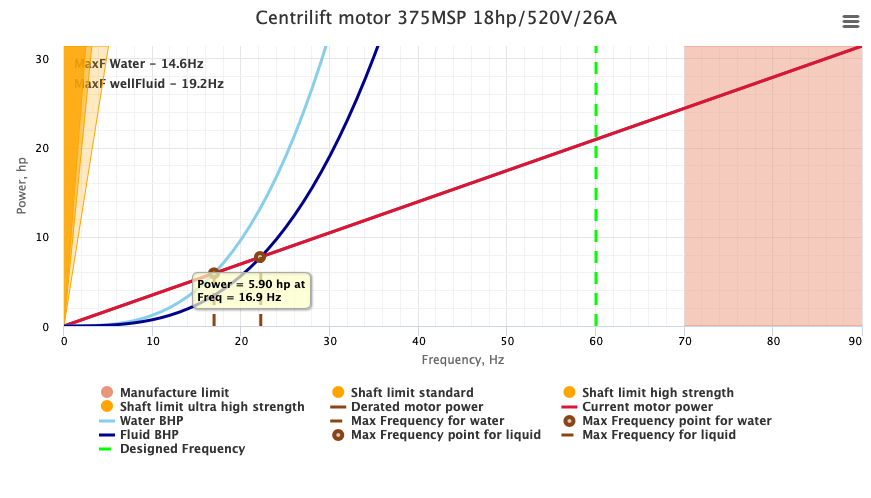 ESP Motor: Centrilift motor 375MSP 18hp/520V/26A
ESP Cable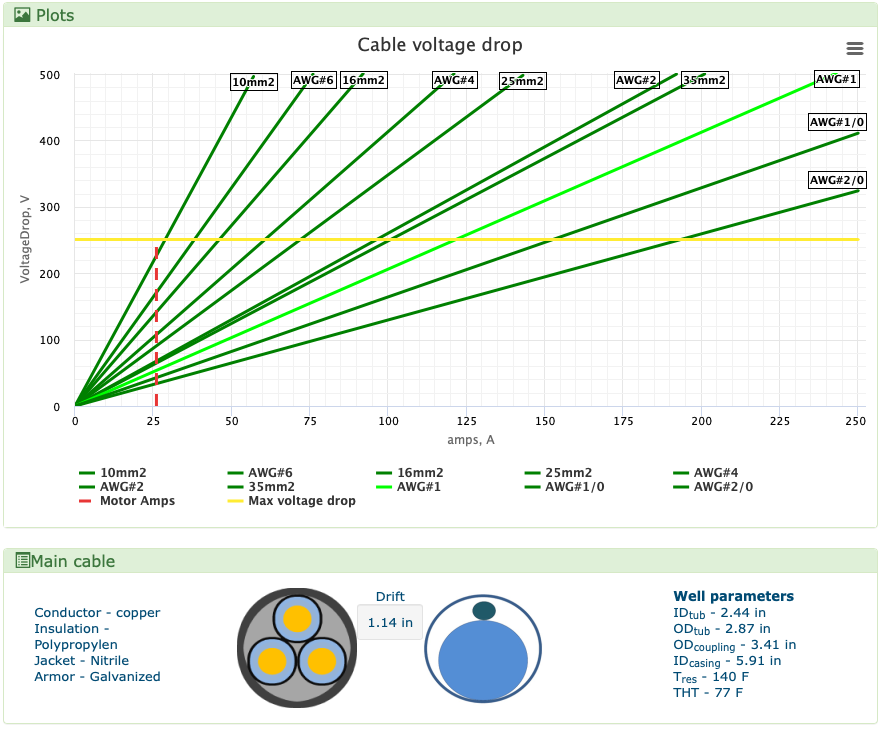 ESP Cable: #1 AWG CPNR Centrilift 34.5/-/2.51kg/m SOL 5kV
ESP Drive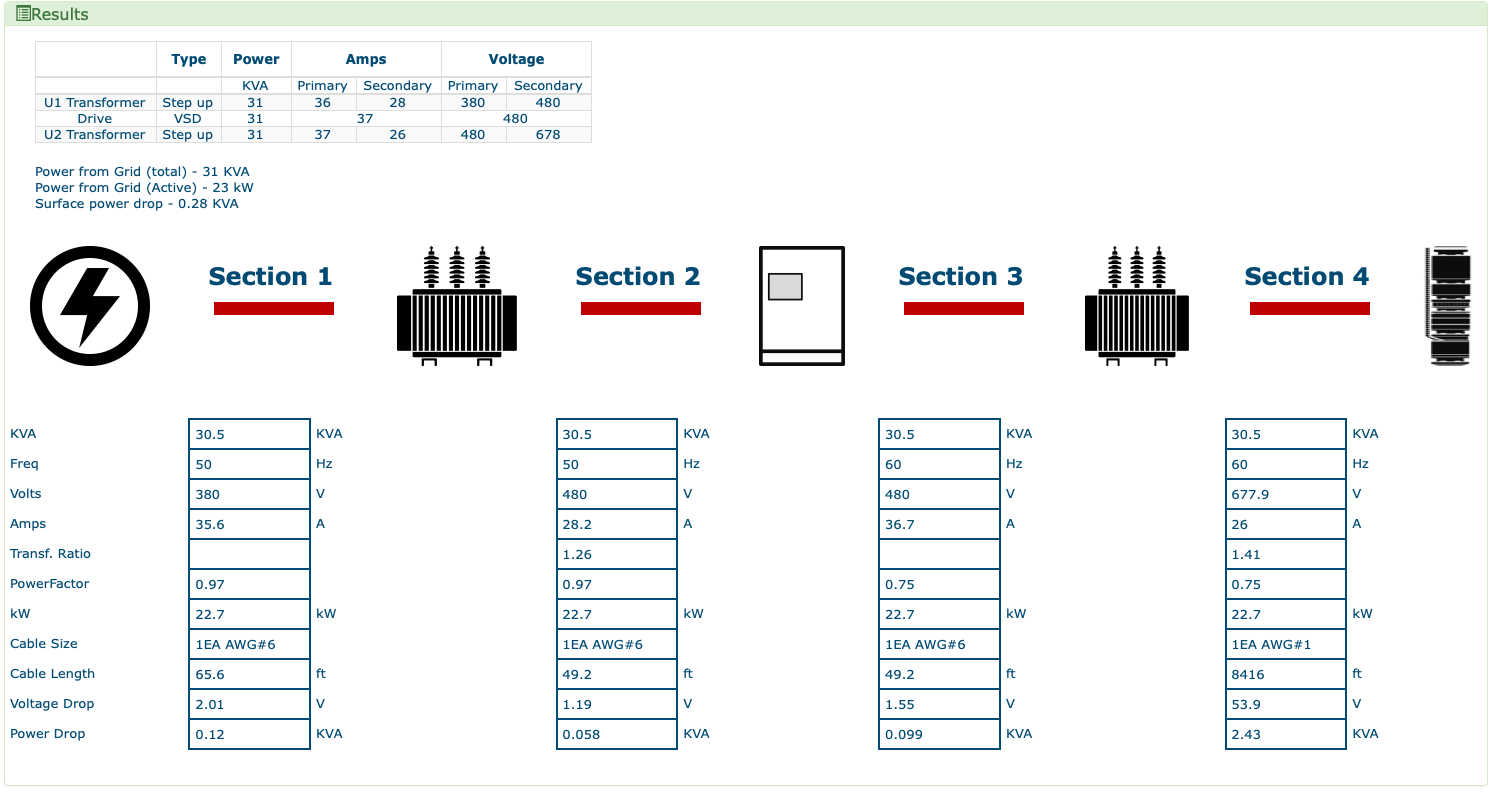 ESP Drive
ESP Design Software
Pump Design - ESP pump design software available online at www.pengtools.com.
Subpump
Autograph PC
Pipesim ESP design
DesignRite
WellFlow
Prosper
SelPro
RosPump
Автотехнолог
See also
References
↑ Brown, Kermit (1984). The Technology of Artificial Lift Methods. Volume 4. Production Optimization of Oil and Gas Wells by Nodal System Analysis. Tulsa, Oklahoma: PennWellBookss.